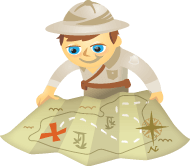 Is your WordPress blog safe from malicious people?
Would you like to make your WordPress blog more secure?
Most often, people don't think about security measures until it's too late. But there are some simple steps you can take to keep your blog safe.
Why Secure Your WordPress Blog?
A blog that has been hacked can suffer from loss of content, stolen data and expensive downtime. Maintaining the security of your blog helps you protect your reputation and provide your visitors with the best service possible.
Because WordPress is such a popular platform for blogging, it's a regular target for hacking attacks launched by people who find and exploit weaknesses and vulnerabilities in websites.
Here are 5 simple security measures that you should implement on your business blog today to protect it from hacking attacks.
#1: Delete the "Admin" Username
Hackers look for blogs that use the default WordPress admin username because it's half of the information they need to gain entry to your blog. When you use "Admin" as your username, you save the hacker a lot of time. All they'd need to do next is to figure out your password. Once that happens, they can enter your blog and do whatever they want.
The first step in making your blog secure is to create a new user profile for yourself and delete the default admin username. This makes it more difficult for someone to hack into your business blog.