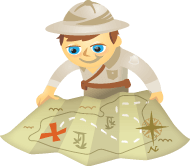 Are more of your blog visitors coming from a mobile device instead of a desktop computer?
Do you wonder how responsive design can increase customer satisfaction and improve your marketing?
In this article I'll explore three ways incorporating responsive web design into your online strategy can benefit your business.
What is Responsive Design?
Responsive web design means that your blog or website will automatically appear properly formatted on any device: a desktop computer, a tablet or a mobile device.
In What Users Want Most from Mobile Sites Today, Google reports that 61% of mobile visitors who click through to a non–mobile-friendly website will return to Google to find a site that's more easily readable from their device. It's become critical for companies to have a responsive design for their sites.
Let's explore how responsive design can help your business:
#1: Obtain Higher Conversion Rates With an Easy Mobile Experience
In the same Google report I mentioned above, 78% of users want to find what they're looking for on a mobile site in just one or two clicks, and 64% of users only want to scroll up and down on a business' mobile site, not left and right.