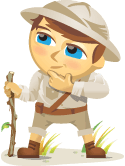 Have you run remarketing campaigns on Facebook?
Are you reaping the full benefits Facebook ad targeting?
To allocate your Facebook ad spend more efficiently, you need to target people who are interested in your product or service.
In this article you'll discover how Facebook remarketing campaigns can increase your ROI.
What Is Remarketing?
Remarketing is a tactic that lets you advertise to people who have visited your website and shown interest in your product or service. The way it works is relatively straightforward: Visitors come to your website, you segment your website visitors and create custom ads and then show those ads to those website visitors via Facebook.