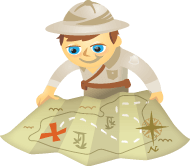 As Google's latest foray into social media, Google+ has brought some new tools to the digital table. My personal favorite is Hangouts.
Google describes Hangouts as a "front porch."
Anyone can drop in and say "hi" just like anyone could drop by when you're on your porch.
3 Reasons to Consider a Google Hangout
Your prospects are already here! Video conferencing has been available for a while, but Google+ Hangouts takes it to where people are.