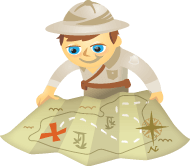 Are you creating content on Snapchat, Blab, Vine, Periscope, or Facebook Live?
Want to reuse that content on other social channels?
Whether it's a live broadcast on Facebook, a quick snap on Snapchat, or short audio from Anchor, you can save and download your social content and share it across all of your profiles.
In this article you'll discover how to repurpose content from today's hottest social media platforms.
Why These Networks?
The networks covered in this article were chosen specifically because they give you the ability to download the media you create with these networks either directly, through the source code, or through the use of third-party tools. That's key when looking for social networks to use to create unique content. Look for networks where you can grow an audience and create unique content that can be used beyond the network itself if you want.