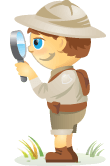 Welcome to our weekly edition of what's hot in social media news.
To help you stay up to date with social media, here are some of the news items that caught our attention.
What's New This Week
Facebook Rolls Out Interactive Live Broadcast Map: Facebook introduced an "interactive map that shows you [public Facebook Live] streams that you can tune into in real-time" from all over the world and "who's watching the video you've selected." The Next Web reports that this new feature "has been around for the past month, but it's now easier to find on Facebook's desktop site." The interactive map is rolling out slowly throughout the world, but there's been no word on when it will be available globally.