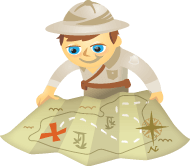 Are you thinking about adding videos to your social media mix?
Do you want to boost your awareness and increase engagement?
Social media networks provide a lot of video options.
From Google+ Hangouts to Twitter's Vine and Facebook's launch of Instagram Video, video is fast becoming an essential part of any business's online marketing strategy.
In this post, I'm going to show you how to incorporate video from 5 platforms into your social media strategy.
#1: Vine Video
For those who aren't into complex video production, Vine lets you create simple, six-second looping videos to share on Twitter and Facebook.