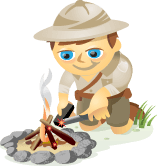 Do you want to create more interesting visual content?
Are you looking for new ways to present your message?
Today's marketers are using visual content to capture their readers' interest and attention.
In this article I'll show you four of the best free tools you can use to create strong visual content for social media.
Why Stand-Out Visual Content?
All of those people we're trying to reach–fans, followers, customers–overlap with the same people our competitors are trying to reach. All of us are clamoring to have our content noticed over everyone else's.
Text alone is hollow. It doesn't attract much interest and it's easily overlooked. Visual content has become one of the most important ways to bring attention to your social marketing efforts.
#1: Design Infographics
Right now, infographics are the hot thing. They've taken content marketing by storm because they bring data to life. There's no doubt they're eye-catching.
The problem is that creating infographics can be a headache if you've never done it before. Until now. Instead of buying the right software and hiring an expensive graphic designer, you have a number of free and affordable options.
I've tested many of them and Easelly is my favorite because it's so easy to use (a nice reflection of its name).