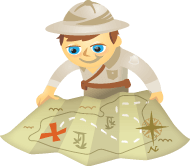 Are you looking for ways to improve your YouTube videos?
Do you want to increase your YouTube channel views and subscribers?
Keep reading to discover five valuable tips to enhance your YouTube marketing.
Simple YouTube Strategy
Here's a simple strategy.
Want to integrate YouTube into your online marketing strategy effectively?
Then you must create and share valuable video content that's relevant to what your ideal customer is searching for on the Internet.
This might be an answer to a frequent question, a tutorial or a customer review of your services.
When you use video strategically, YouTube will generate leads for your business.
In this article I'll show you five styles of YouTube videos that will get you the results you're looking for on YouTube.
#1: Turn New Viewers Into Subscribers With a Trailer Video
YouTube Trailer Video lets you feature a video at the top of your channel when nonsubscribers visit.
Why not use this space to tell new viewers who you are, what your business is all about and what they can expect from your content?