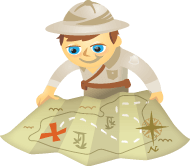 Are you looking to create content that engages?
Does your content connect with people and encourage them to engage?
In this article I'll show you 26 ways to make content that engages people, in an A-Z guide of tips.
#1: Authors Matter
Written content doesn't exist without authors, whether constructing 140-character posts or 1000-word articles.  Not only do you want people who can write well (e.g., clear points, proper spelling and grammar, active voice), you need writers and team members who can think strategically about the content that will resonate most with your audience.
We'll talk about more specifics as we go down the list. For now, think strategy.