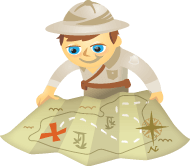 What if your business could do live video broadcasts to unlimited viewers–instantly and for free?
Want to share your screen and slides, no problem.  Need it to be super easy?
This is all possible with using the free Google+ Hangouts On Air!
You've probably already heard about Google+ Hangouts, which allow you to video chat with up to 9 different people at once.
And you may have heard of Google+ Hangouts On Air, which lets you broadcast to an unlimited audience.  But this cool feature was previously only available to a select number of bigger businesses.
Watch this quick video to see it in action…
Well, Google+ recently announced the rollout of Hangouts On Air to everyone worldwide. This is great news for marketers looking for a free and easy solution to reach people via videos.
So let's talk about everything you need to know about using Google+ Hangouts On Air for your business.
First, a brief introduction…
Google+ Hangouts On Air
Hangouts On Air allow you to publicly broadcast your Hangouts on YouTube and your Google+ stream for anyone to watch.
Yep, it's like having access to your own live video show on the web—viewable to anyone in the world.