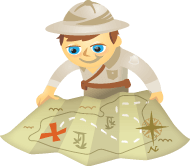 Do you struggle to find leads on Twitter?
Have you used Twitter advanced search queries?
Twitter's constant stream of updates makes it difficult to find the people and conversations you're looking for.
In this article you'll discover what Twitter advanced search queries are and how to use them to generate leads for your business.
Why Use Twitter Advanced Search Queries?
It's likely that there are customers on Twitter already looking for your business or product, but how do you find them?
You've probably already used Twitter's search panel to look for hashtags, companies or users on Twitter. And you probably ended up with general results that were OK, but not great.