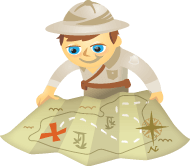 Are you finding it difficult to generate organic leads with Twitter and LinkedIn?
Have you tried paid social media advertising?
Twitter and LinkedIn offer opportunities to target leads in a cost-effective way.
In this article you'll discover six options to target clients using Twitter and LinkedIn advertising.
Targeting Options for Twitter Advertising
1. Appeal to Similar Audiences
Twitter's promoted tweets cost about $0.55 per click. They're a budget-friendly solution when you want to build authority and get noticed in a new market or by a prospective client.