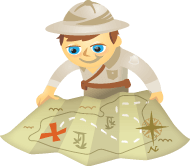 Do you want to build a loyal and engaged Twitter following (a tribe if you will)?
If so, this article is for you. It will show you how to find people and what to do to engage them.
Find the right people—build the right community
This is a tricky headline. As if there's something like the "right" community waiting for you out there. Yet focusing firmly on the people you want to interact with will pay off greatly. Following those who show a real connection to your niche is key to getting the return out of your Twitter conversations.
A fundamental question when creating your own tribe is to ask yourself, "Whom can I help on Twitter?"