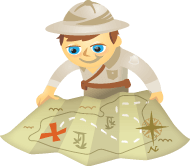 Are you struggling to grow your Twitter following?
Do you want more people to see your updates?
If you're a small business, it can take a while to build up your Twitter followers and that can be frustrating. You may wonder how other companies grow quickly and how you can replicate their success.
In this article you'll discover five ways to jumpstart visibility for your Twitter profile and tweets.
#1: Follow Twitter Basics
Before you do anything else, be sure you understand a few Twitter fundamentals. You can increase your tweet exposure with just a few tweaks:
Don't start tweets with @username. Starting a tweet with @username restricts its visibility to only you, the person you're tweeting and any mutual followers. Your reach is automatically cut short!
Don't use more than three hashtags in any one tweet. Too many hashtags in a tweet makes it look spammy and reduces your tweet's shareability.
Don't over-tweet about yourself or your products. The 80/20 rule applies on all social platforms. The 80/20 rule means you spend 80% of the time interacting with and promoting others and 20% of the time promoting yourself and your products.
Provide as much value as you can. Listen to your followers and the people you follow. What are their pain points? How can you solve those? When you share relevant, interesting tweets (without over-promoting), people see you as an expert and may recommend you to others as an important resource.