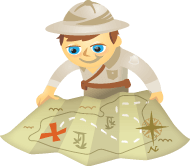 Are you looking to improve your Twitter game?
The Twitterverse has been buzzing with the latest US Open Tennis Tournament news.
What can tennis teach your business about Twitter? You'd be surprised.
Preparing for this year's grand slam, I began to research and follow popular players on Twitter. I was curious how these big celebrities fared on the 140-character–driven platform.
The outcome of my research resulted in nine takeaways that brands and businesses can use to help improve their Twitter stream.
Take these tips from the tennis pros and your Twitter stream will be serving up aces.
#1: Multi-Task
Great tennis tweeters, like Novak Djokovic, capitalize on their celebrity and build synergistic communities around Twitter.
Novak has created a branded page on the celebrity social network WhoSay.  He then pushes photos from his Whosay mobile app directly to Twitter. The third-party app does all the work, shortens the link and allows for an active new community to thrive directly on Whosay.