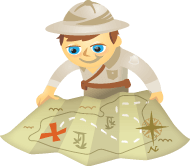 Do you need more leads?
Have you used Twitter to find qualified leads?
Does the idea of finding new customers on Twitter peak your curiosity?
Many businesses don't know how to cut through the clutter and find the people they're looking for on Twitter.
In this article you'll discover five ways to find leads and customers, engage with them and drive them to your products.
#1: Search Keywords and Hashtags
Twitter has over 600 million users around the world, so it's a good bet most of your target audience is on the platform. Are you taking advantage of that by actively looking for and talking with them?
If not, start by making a list of keywords and hashtags related to your business name, your product names and even your competitors and their products. Use that list to conduct a simple search on Twitter.
Sift through the search results to find and follow prospects you think are interested in your business and products. Engage with them by retweeting their content and using @mentions to connect personally.