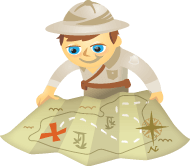 Social media goes beyond Facebook or Twitter.  It's about connecting with people and developing relationships.  And sometimes those connections can be literally face-to-face!
Social media allows us to make connections faster and over greater distances, but there is power in social media to bring us closer to our neighbors, too.  One of the ways to do that is with a Tweetup.
What Is a Tweetup?
There are some things that just can't be done with a 140-character limit.
A Tweetup is an in-person meeting of Twitter users. It has also become a colloquialism for any in-person networking event organized using social media.