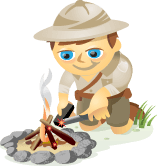 Do you know if your Twitter marketing is working?
Monitoring and analyzing your Twitter projects can be challenging.
With the right metrics, you can improve and tailor your Twitter campaigns for better results.
Luckily, third-party Twitter tools provide these metrics, but there are MANY tools to choose from out there.
So here I'll share some of the best Twitter analytics tools to help you improve your Twitter marketing.
#1: SocialBro: Explore Your Community
I consider SocialBro one of the top three most effective marketing tools for businesses.
SocialBro comes with excellent analytics that give great insights not only about your marketing campaign, but also about your Twitter account and followers.
Here are the analytics tools available with SocialBro.
Real-time Analytics
Real-time Analytics gives you details of the people who are active users and have tweeted in the last 10 minutes in real time. This helps you determine the specific hour of the day when people are active.
It's a quick way to know when you should be tweeting. This is more relevant than depending on studies done by others, because it's tailored specifically for you and your Twitter community.