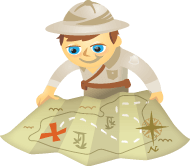 Have you used Tumblr as a social marketing platform?
Would you like to reach an audience ready to share your creative content?
For companies with strong visual content Tumblr is a largely untapped opportunity.
In this article I'll show you five companies using Tumblr to reach a new audience that values creativity and fun.
Why Tumblr?
If you had the chance to market on a site with upwards of 300 million unique visitors every month, would you do it?
What if that same site extended post life beyond a few days and catered to a younger demographic more interested in sharing content than creating it (thus giving you a better chance at going viral)?