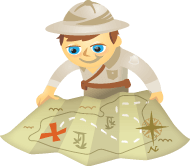 Are you looking for ways to grow your email list?
Can email list-building and Facebook promotions work well together?
In this article I'll outline the potential synergies of email marketing and Facebook promotions.
Included will be a dive into example Facebook Page promotions and how companies can use them to build their email lists.
Why Email?
Email marketing continues to be a strong method digital marketers use to inform, educate and push information to opt-in recipients. It is a universally used tool that everyone sits down to check at work or home.
As outlined in a past interview with Mike Stelzner, Christopher Penn notes that email is an important "push medium."
Email serves as one leg of a three-legged marketing tool along with a blog and social media. Within this three-pronged strategy, email is the distribution mechanism, while a blog is the content center and social media is the conversation mechanism.
When new content is posted on a blog, email can be a method of distributing notice of the new article, while social media offers a conversation mechanism for users to talk about the content.
For many companies, their email list is really the foundational marketing piece. It's a jewel of great value containing the names and direct contact method of customers and would-be customers that enables them to "get in front of" these people regularly.