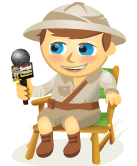 In this video I interview Wendy Piersall of WendyPiersall.com.  Wendy's had a lot of exposure from her blogging and provides some interesting insights into the dark side of being popular online.
Health issues forced Wendy to re-evaluate her pursuit of fame. And when she focused on paying the bills these activities were the first things she dropped.
Wendy also gives some great information for both businesses and bloggers concerning the U.S. Federal Trade Commission's ruling on blogging financial disclosures.  Listen to hear the whole story.