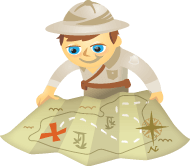 One of the major objections I hear about social media is about time.
Do any of these sound familiar? "Who has time?" "You expect me to do all this on top of my normal duties?" "How do you fit everything in?" … and so on.
I am not going to lie to you. Social media does take time. In fact, time is going to be one of your major hidden costs of doing business on the Internet.  And for some of us, that time could be wasted if we are not careful.
You need to watch where your time goes to ensure you're spending it efficiently and with the desired impact.  Here are five tips to help you.