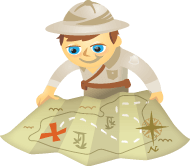 Do you tell your fans how much you value them?
Are you looking for new ways to say thank you on social media?
Give and take is part of any successful relationship–online or off, business or personal.
In this article I'll show you eight ways companies are using social media campaigns to thank their customers and foster better customer relationships.
#1: Pay It Forward
Hotel chain DoubleTree is known for their cookie welcome at check-in–it's their way of "bringing the human touch back to travel."
On National Chocolate Chip Cookie Day, they not only offered cookies to anyone who visited one of their hotels, they also used their social channels to invite others to spread the love by suggesting people who could use a cookie pick-me-up.
People could pay it forward by answering the question, "Who else deserves some Cookie Care?" on Facebook, Twitter and Instagram and including the #CookieCare hashtag.