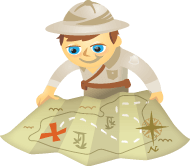 Would you like to improve your Twitter marketing?
Are you testing to see what gives you the best results?
Traditionally, split testing is a practice that's applied to individual pages on your website to compare page variations and ultimately determine conclusively which version results in the highest overall conversion rate.
However, implementing split tests on your website alone is short-sighted! In fact, you can harness the power of split testing to generate valuable information about your target audience and their overall engagement with your brand on social media websites.
To see how to do this, let's go step by step through how to carry out a split test on Twitter.
Step #1 – Create Your Split Test Tweet
The first step in the split testing process is to craft the text of the tweeted message you'll use.
As an example, suppose you want to determine when your Twitter followers are most active. While services like Tweriod will estimate popular times, narrowing down these ranges and confirming their effectiveness using split testing will help you determine when future tweets should be published to reach the biggest, most engaged audience.