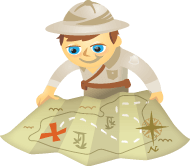 Does your business have a plan for bringing on social media marketers?
Are you wondering how to work with experts outside the company while maintaining a consistent brand experience?
Before you jump in headfirst or turn over the social media reins , check out the following eight tips to make sure your employees or contractors correctly represent your company.
#1: Create a Social Style Guide
Agreeing on a style for outward-facing content helps solidify your company's identity and character, and is the starting point of good social media employee training, because it puts all agents on the same page. Perhaps the biggest hurdle in creating a style guide is to define your company's voice.