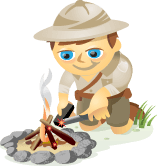 Do you want more insight about your social media activities?
Are you looking for a tool to bring important analytics to one place?
In this article, you'll discover four social media analytics tools that deliver clear insights about your business's social media activity.
Why Analytics?
Social media analytics are more than numbers.
Analytics give you the data you need to improve your social media engagement, make marketing decisions and tie social media to your bottom line.
To use analytics effectively, the data needs to be presented in easy-to-understand formats.
Here are four tools worth checking out:
#1: Receive Automatic Reports Daily Via Email With Social Report
The one thing we check every day is our email. So it makes sense to get social analytics and updates automatically delivered to your inbox.
Social Report is a comprehensive analytics tool with a very affordable starter account that lets you to monitor up to five projects, each with an unlimited number of social accounts for only $9 per month.
To get started, sign up for a 30-day free trial of the plan that best fits your business.