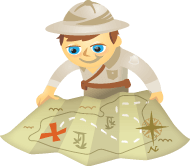 Are you looking for a smarter way to stay in touch with your most important business relationships?
What if you could store all of your contacts in one place?
Well now you can with LinkedIn Contacts.
In this article, you'll discover how LinkedIn Contacts looks and take a tour through its features.
What is LinkedIn Contacts?
LinkedIn announced the new LinkedIn Contacts in April.
This new feature brings together all your address books, emails and calendars, and keeps them up to date in one place.
From these sources, LinkedIn will automatically pull in the details of your past conversations and meetings, and bring those details directly into your contact's profile.
Contacts hasn't been rolled out to everyone yet, so you may have to check back later or join the waitlist.
To see if you have this new feature, click on Contacts in the top navigation. If you've been given access to the new functionality, it will look like the screenshot below.