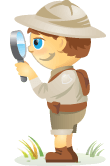 Are you wondering how the social media landscape is changing for users?
Wondering where you should focus your social media activities?
Pew Research has released a brand-new study, which shows how American users have diversified their social media use.
Here are four noteworthy ways social media use is changing for American users:
#1: Facebook—Still Popular, but not Always "Platform of Choice"
The Pew study indicates that overall, Facebook continues to be a favorite, but 42% of online adults use two or more social networks. Among those who use just one social platform, 8% use LinkedIn, 4% use Pinterest and 2% use Twitter or Instagram as their platform of choice.