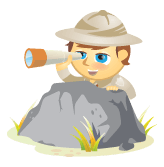 ***UPDATE (9/17/14): We have our winners. The blog post winner of two free tickets is Selene Francesca for this post. The Twitter contest winner who receives one free ticket is @Kuvy.***
Want to win a free ticket to the largest online social media marketing event of the year?
Social Media Examiner has worked hard to bring you our sixth-annual Social Media Success Summit. This is our biggest event ever!
And we've come up with a fun way to get you involved.
First, what is this event?
Social Media Success Summit 2014 is a large online conference dedicated to helping marketers and business owners master social media marketing.
More than 2000 businesses have already signed up! Hundreds of small businesses and well-known brands such as AAA, IBM, Dell, Disney, Target, Staples, CBN, 3M, LexisNexus, Discovery Financial Services, MGM Resorts, Master Card, US Air Force Academy, Adobe, Discovery Communications, Autodesk, ABC Television, Purdue University, University of Texas and the Nashville Symphony will be attending this year's summit.
Forty-five of the world's most respected social media experts will share their strategies with you.