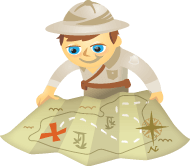 Is there anything from your online past that you would not want people to see?
Do you want to start cleaning up your online identity?
Your digital footprint is everything that shows up when people search for you online.
From images to comments and blog posts, this collective first impression can make or break your online reputation.
In this article, I share 5 tips for making sure your online presence reflects well on your brand or business.
#1: Check Your Facebook Privacy Settings
If you use your personal Facebook profile to promote your business, things from your personal life can become public very quickly. To maintain your privacy, it's important to have your Facebook account set to friends only.
You may think that your account is already on lockdown, but Facebook privacy settings change often. Follow these steps to ensure your profile is ready for potential clients to see.
Specify the audience for future posts
As the default, all Facebook posts are set to Public, so before delving into the past, make sure you privacy-proof your future.
In the privacy settings of your Facebook profile, you can edit the Who can see my stuff? section to choose who'll see your posts. The choices are Public, Friends, Only Me or Custom.