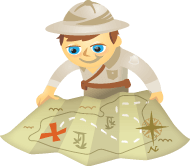 Is social media working well for you?
Are you approaching it the right way?
Everyone uses social media differently, and the approach you use should be based on your goals.
In this article I'll share three ways to use social media to get the results you want for your business.
#1: Sell Products or Services
The instant nature of social media is ideal for sales. It's no wonder social networks have become full-blown marketing channels. Those using a sales approach make no bones about the fact that they want you to buy their product or service.
When you're selling, your updates likely include discounts and coupons, limited-time deals, new releases and promotions.