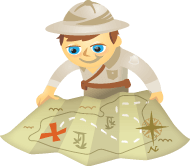 Are you winging it when it comes to your social activity?
The expression "social media ROI" gets tossed around frequently and you know it's important.
But where do you start and how do you relate what to measure online with your overall business goals?
Here are four business goals, how social media can impact these goals and most importantly, how you can measure the impact of your social media efforts on these goals.
Determine how each goal below relates to your specific business goals and then choose which social media results are relevant to measure.