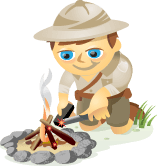 Do you include shareable images with your articles and updates?
Can you create them yourself, or do you think you lack design skills?
It doesn't make sense to hire a graphic designer every time you need an image.
In this article I'll show you three online design tools to make your own shareable images–no formal design skills necessary.
#1: Create Reusable Images With Layers
Canva is an online tool built by designers who had non-designers in mind. When you open your account, Canva offers a quick tutorial and five Starter Challenges to get you going. You can also check out the other design tutorials on the home page–each one takes about three minutes.