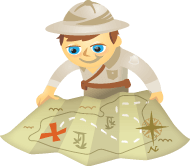 Are you struggling to get your social media activities off the ground?
Do you want to get more people inside your organization to support your social media activities?
If so, you're not alone. Small businesses to Fortune 500 companies find themselves facing these challenges.
In this article, I'll show you how to create an internal social media structure that will help you develop an effective long-term social media presence.
#1: Define the End Goal
First, identify how and why social media will be used to meet specific business and brand goals.
For example, a business goal is to increase revenue by 10%, whereas a brand goal is to create deeper relationships with your existing clients.