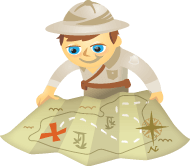 Are you struggling with the challenges of managing large-scale social media?
Do you run social media for a large company?
Maintaining a uniform social media presence in a complex organization is a tall order.
In this article I'll share five key elements for managing company-wide social media.
#1: Be Consistent
Managing social media in a complex organization isn't easy. There are multiple departments and divisions, multiple leaders, multiple policies–all of which can lead to confusion and frustration.