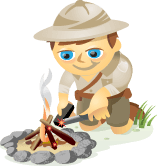 Do you struggle to find a useful link you shared on Twitter or Facebook?
When you spend a lot of time online, you'll inevitably come across too many great things to keep track of.
Whether it's handy infographics, informative articles or just a hilarious video, it can be a lot of work (and sometimes impossible) to find them again later.
If you've been in this situation before, looking for something you saw somewhere online, you'll love these three tools. Each one offers a different take on collecting your personal information and content you share online into a searchable database.