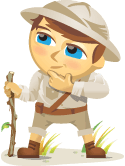 Are you prepared to put your customers in charge of your brand… literally?
What would happen if you gave your customers the keys to your corporate social media channels? This article reviews the rewards and the risks marketers face as they decide how much brand control they're willing to give up.
Marketers are just coming to terms with how to deal with customers having free rein to either praise or bash their companies, but I think there may be a new trend on the horizon—the customer brand ambassador.
You have customers who love your brand and rave about it. But their reach only extends so far. Why not give them a platform to amplify their reach and spread the word? Think about it… It really could be a beautiful partnership.