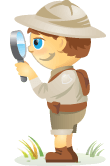 Are you looking for new ways to improve engagement with your audience?
Do you want to know the most effective, yet rarely used social tactics?
In this article I'll share research findings that reveal three widely underused tactics you can use to build a long-term interested audience.
#1: Provide Customer Service on Facebook
A lot of brands default to Twitter for social customer care. While there's nothing wrong with that, it's important to remember that Facebook offers plenty of customer service options you can leverage as well.