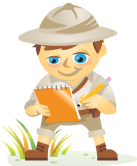 The consumer revolution is in progress. Do you know what part you play in it?
Do you realize that "digital Darwinism" (when society and technology evolve faster than a company's ability to adapt) is a threat to each and every business (including yours)?
Whether you're a marketer, a business professional or an entrepreneur, it is your job to figure out why consumers connect and how their social conversations influence your brand.
In his book, The End of Business as Usual, Brian Solis cautions that businesses that embrace and adapt to the revolution will survive the perpetual threat of digital Darwinism—and those that do not will die!