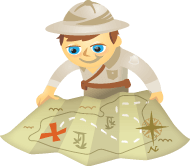 Are you wondering how to promote an event with social media?
Whether you're planning a small local gathering or a large conference, social media can be used to get the word out in a powerful way.
In this article I'll reveal seven creative ways to use social media to increase your chances for a gangbuster event.
Start With a Marketing Plan
The first thing you need to do is develop a high-level marketing plan. This will include answering the "who, what, where, when, why and how long" questions for your event.
Check out this video on how to create a marketing plan.