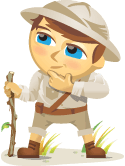 *UPDATE: Congratulations to P.J. Jonas of Goat Milk Stuff and Erica Conroy of Coupsmart, the grand-prize and second-prize winners in the Small Biz Dream Contest. All 10 winners won a free pass to Small Biz Success Summit. P.J. also won 3 hours of consulting from John Jantsch. The top winners also won a library of marketing books and John Jantsch's Complete Small Business Marketing System. Go see the winning entries.*
Do you own a small business?
Would you like to win free private coaching from the world's foremost small business expert?
A creative photo can get you there.
Social Media Examiner is hosting the "Small Biz Dream Contest."
The grand prize includes private coaching from John Jantsch (author of Duct Tape Marketing) along with free tickets to Small Biz Success Summit 2012.
What is the contest?
It's fun and simple. You simply take a photo and post it on our special Facebook page. We used Strutta to create a contest that complies with Facebook's standards.