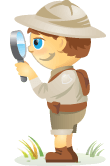 Do you wonder if you have what it takes to compete in the social media marketplace? Who, after all, has the time or the budget to mimic Disney or Starbucks? Certainly not a small business!
Well, maybe that's the wrong set of questions.
In fact, the 2011 Social Media Marketing Industry Report has some good news for small business marketers. Small business owners are seeing the greatest results from social media marketing.