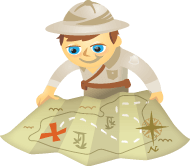 Do you use SlideShare as a marketing tool?
Are you looking for creative ways to use SlideShare for your business?
SlideShare is a great place to promote attractive, useful presentations to get the visibility you need.
In this article you'll discover how SlideShare can generate free exposure for your business.
Why SlideShare for Your Business?
Most social media marketers are focused on Facebook, YouTube, Twitter, Instagram and LinkedIn. But are they missing the boat? Out of all of the social platforms out there, SlideShare is the most overlooked and underutilized.