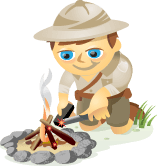 Are you wondering how the new Twitter Vine (think ultra short videos) could work for your business?
Vine is a new mobile app that allows you to capture life from your mobile device in short, six-second looping videos.
You can share these short videos with your Twitter followers and Facebook friends.
Think of it as Instagram, except with videos instead of pictures.
In today's post, I'll show you some creative uses of Vine for business.
Editor's note: You can click on any video to pause it.
#1: Engage Your Followers in Conversation
Start a conversation with your followers using a Vine video.
Simon & Schuster does this by not just asking what followers will be reading this weekend—they give them visual cues on what they could be reading.
It could spark any reader to go to their local bookstore or order a new title online. Hence this update is great for engagement and sales.