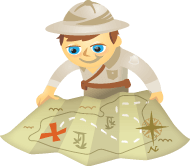 Do you use social media to generate inbound leads for your business?
Are you unsure about where and how to focus your efforts to meet your lead generation goals?
According to HubSpot's Inbound Marketing Annual Report, social media produces almost double the marketing leads of trade shows, telemarketing, direct mail or PPC.
If you're starting a lead generation campaign, Facebook, Twitter, LinkedIn and Google+ are all excellent places to begin, but knowing how to pull leads from the conversations that happen on these platforms takes some knowledge and practice.
In this article, I'll share 4 ways you can use social media to generate inbound marketing leads for your business.
#1: Twitter Chats
Twitter chats are frequently scheduled discussions hosted by a Twitter account. Each chat uses a particular hashtag so that other Twitter users can follow the conversation even though topics change with each discussion.
Because of the focused audience communities that participate in Twitter chats, they are a great place to generate leads for your business.