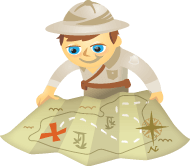 Do you blog? Are you thinking of publishing a book?
Eighty-one percent of the US population says they want to write a book.
Not surprisingly, only about two percent ever actually do it.
Most bloggers, on the other hand, write a ton of books—probably three or four books per year on average, but most of them don't ever realize they've done so.
Later—sometimes much later—they realize they're sitting on a ton of content that could be turned into a book.
Many make the mistake of not bothering to consciously write a book. They just blog.
Here's a better way: Plan out the content for a book, then write the book in post-sized bits every day and publish the posts—the book—on your blog.
When you blog a book, you produce both a manuscript and a fan base that avidly reads your blog and may eventually also purchase the final product: your printed or digital book.
How to Become an Author AND a Blogger
Each time you hit the Publish button on your blog, you publish your work. That means you become a publisher. But you haven't produced a book, which means you're not an author. Nor have you become a successful author.