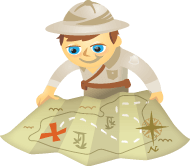 Would you like to drive more traffic to your website?
With new enhancements from Google+, you can more easily accomplish just that!
One of the biggest changes recently rolled out by Google might even be called a seismic shift in search.
Google is somewhat clumsily calling it "Search, plus Your World." You see, Google has years of experience in the search engine business. And they are so good because they aim to deliver what people are looking for, not just what they actually enter into the search window. They have to figure out if your search on "porter" is supposed to show a lot of beer websites or websites focusing on people who carry luggage.
Part of what they've learned is that people want to see results based on their own personal history and social profile.
Google's Search, Plus Your World
Google search is still search, but now they are tailoring a person's search to include results based on their social media profile.