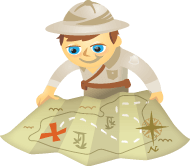 Has your business set up a Google+ page?
Google+ is growing at an impressive rate. In less than one year, Google has reached over 90 million registered users—far exceeding expected growth rates.
According to CNN's Mark Millan, it took Facebook about four years to grow to that many users. It took Twitter almost five years to grow to the same size.
There's No Leap of Faith With Google+
You already know Google is important to your business. Just check your analytics. Which search engine are people using to find your website? Google. And if you're using YouTube effectively, chances are YouTube is driving traffic to your site too. News flash: Google owns YouTube.