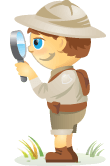 Have you asked this question: Is the time I invest with social media really worth it?  Whether you're new or an old hat with social media, chances are you've wondered if the time commitment is really worth the return on investment (ROI).
Make no mistake about it:  a true investment of time and resources is necessary to see significant social media marketing success.
But the real question is, "Just HOW MUCH time is needed to see solid success?"
This question was recently answered in the new study, 2010 Social Media Marketing Industry Report, authored by Michael Stelzner.  Based on the report findings, ROI is top of mind for most marketers using social media.